News — Fremlin Walk Supports Mental Health Awareness Week
Fremlin Walk is supporting Mental Health Awareness Week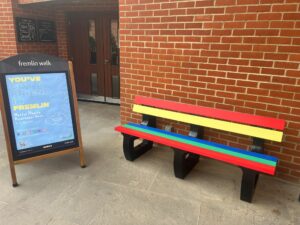 Mental Health Awareness Week – 9th – 15th May 2022
This year's Mental Health Awareness theme, as decided by the Mental Health Foundations is loneliness.
The Mental Health Foundation has launched their campaign "Together we can tackle loneliness" and state that one in four adults feel lonely some or all the time. They state there is no single cause and no one solution, but that, the longer individuals feel lonely, the more at risk they are of mental health problems.
In support of Mental Health Awareness Week and the theme of 'loneliness', Fremlin Walk Maidstone have taken some positive steps to help raise awareness and help mitigate loneliness.
On Monday 9th May, Fremlin Walk launched their new campaign, "You've got a friend at Fremlin" whereby the shopping centre announced details of their brand new 'Buddy Bench' located at the top of the Earl Street staircase.
The Buddy Bench is intended for use by all customers who might feel lonely or low, and in need of someone to talk to. Sitting on the bench is a signal to other shoppers and Fremlin Walk staff that they are open to a conversation with someone else and happy to talk.
The centre is also partnering with Involve in the coming weeks and months to host a coffee morning at one of the centre's coffee shops. Facilitated by the friendly team at Involve, shoppers who might be experiencing loneliness and need support can come along to speak to the volunteers. There will be complimentary coffee and tea to those who attend. Details will be launched soon on the Fremlin Walk website.
Local charities, the Young Lives Foundation & Mid-Kent MIND are joining forces to raise awareness of Mental Health Awareness Week. The children's charity and mental health charity have created a short Mindful Route around Maidstone town centre and the riverfront, bringing residents together to take a step back n time, learning about the history of our town, as well as giving some top tips to care for your mental health! Our Buddy Bench will be one of the stops along the way.
The route is free to download and is available throughout the whole of May: https://ylf.org.uk/events/mental-health-week-2022/
Centre manager, Lloyd Wright, commented: "We're delighted once again to be supporting mental health awareness week. We're hoping our new Buddy Bench gives our shoppers the outlet they need to find help and support. Our mental health first aiders are available within the centre to talk to those in need. The QR code by the Buddy Bench when scanned gives our customers access to local and national resources for organisations and charities who specialise in loneliness.
"We're also thrilled to be supporting the Young Lives Foundation and Mid Kent Mind Charity to help raise awareness of their town wide trail, and we're excited to partner with Involve Kent hosting our first coffee morning at the centre in support of the cause. Their main purpose is to help empower people and communities to live well by helping to tackle the root causes of ill health, including isolation, loneliness, disadvantage, and frailty."