News — May Bear Bulletin
STAR WARSTM Wookiee Weekend
Calling all Wookiee warriors! Blast off with epic savings! Arriving 4 May 
May the 4th Be with You! What better way to celebrate Star Wars Day than with an epic offer fit for a galaxy far, far away? Build-A-Bear Workshop is celeBEARating May the Fourth by offering ChewbaccaTM and his sound chip for just £17! Roar into action and explore the galaxy with a cuddly new co- pilot by your side!

GOAL! Football Bear arrives at Build-A- Bear Workshop!
The latest signing at the Workshop is super cuddly! NEW – In Stores Now!
Have fun kickin' it with Football Bear! The newest furry friend at Build-A-Bear Workshop shoots and scores with black fur and football ears and paw pads. Football fans of all ages can watch this summer's World Cup with Football Bear by their side. Plus, you can get your bear ready for the pitch with kits from your favourite clubs!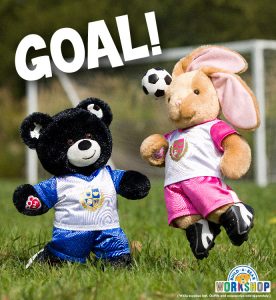 A BEARY SPECIAL WEDDING
A beary-tale wedding calls for a cuddly celebration! 18-20 May 2018
Wedding bells are ringing and the moment we've all been waiting for is finally here! Celebrate a BEARY special Royal Wedding with a commemorative T-shirt for your furry friend (available exclusively online) and find fun fashions to get your friends ready for the big day. Plus, you can take home a FREE wedding- themed paper dolls activity sheet in stores this weekend! It's a fun weekend to celebrate true love – FURever and always!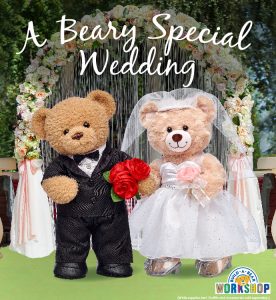 Check Off Your Summer Bucket List with Build-A-Bear!
Make this summer the BEARY best one yet! 24-30 May
Watching blockbusters, going swimming, reading books, camping out in the garden – there's endless fun to be had during the warm summer months! With Build-A-Bear Workshop, you can fill out your own bucket list and celeBEARate all of summer's special moments with a furry friend by your side! Pick up a free handout in stores or print your own online. See how many PAWsome summer goals you can set and get ready for lots of fun in the sun!