News — Maidstone Art Society Exhibition
The Maidstone Art Society Exhibition comes to Fremlin Walk!
Maidstone Art Society is a friendly and sociable group which aims to encourage and support those interested in Art.
The Society, formed in 1922, has about 90 members. This year they celebrate their 100th birthday .
The society has a programme of interesting, varied and stimulating monthly meetings at Madginford Hall from September through to June. These feature demonstrations, practical sessions and/or talks on various aspects of art or artists, in different mediums and are given by professional artists or speakers. Full day workshops are sometimes organised during the winter months.  The Society also has occasional social evenings (usually at the AGM and Christmas social) where members are encouraged to bring along their pieces of work.
An annual exhibition is held  during the summer in Maidstone and this year their 100th anniversary exhibition is being held in Unit 10 here at Fremlin Walk from Saturday 9th to Friday 22nd July 2022 between 10am to 4pm (closed Sundays). Be sure to come along to take a look, it's FREE!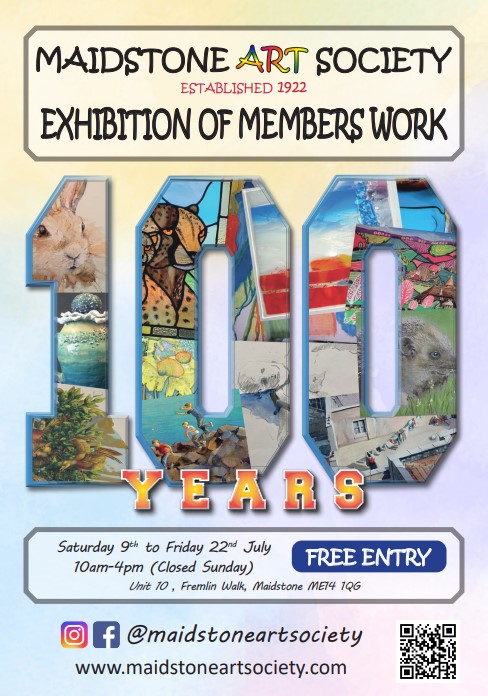 They also have a life study group which meets at various times throughout the year and a summer programme of painting out days at various venues, mostly in Mid Kent.
New and potential members and guests are most welcome at their monthly meetings held at Madginford Hall.
They have a wide range of members and the following are some words from their president and some other members of the society :-
Nick Hampshire
I have been a member of the MAS for many years. The society has been a great influence on my painting, with the regular demonstrations and friendly members which have always made me feel very welcome. Three years ago I was invited to be president of the society which was a great honour, and privilege. I was also the Chairman for two years. Our committee has worked very hard to continue giving our members a wonderful society which I hope will thrive for many years to come.
After leaving school I did a two year apprenticeship in picture restoration, I also have professional training in oil painting by a local artist. I started up my own business in 1976 as a dealer in 18th and 19th century paintings and  providing a restoration service. I still run my  business and don't see myself retiring any time soon.
For examples of Nicks work please visit his website www.nhpaintings.com.
Nadine Jones
It's been great to be a member of Maidstone Art Society.  I often recommend it to others. I really enjoy the  demonstration evenings and try to attend all of them. It's been great having the monthly challenge, which I've been part of when  possible, and I've also enjoyed being part of the annual exhibitions. The painting out days are also very enjoyable. It has been great to meet other artists and share experiences.
To see examples of my work see my Instagram page, nadinekjonesart or Facebook as Nadine Jones Kynoch. My work is also on the Artists and Illustrators website if you Google Nadine Jones artist.
Charys Beswick
After "coming home" from Africa in 2008 and settling in The Garden of England, I joined the MAS. Members of MAS are kept well informed about local art events, MAS painting out days, workshops and demonstrations. The annual art exhibition is a highlight which has allowed me to exhibit and sell my work. Before I retired, I  was a SEN primary/art teacher.
To see Charys' work please visit her website charysbeswick.com
The MAS membership year runs from September to the following August and their current membership fee is £25 a year.
For anyone who wishes to find out further details, or would like to join, please visit www.maidstoneartsociety.com.