News — July at Build-A-Bear!
Welcome to the PAWsitively Awesome World of Kabu!
Arriving 19 July
The newest Build-A-Bear lifestyle brand arrives with new furry friends, a graphic novel and a free game app!
Meet the Kabu crew! In this exciting new world, friendship and positive thinking are at the heart of every adventure. Journey to the playful town of Pawston to join the Kabu fun with Bearnice, Pawlette, Catlynn and the rest of the team. Explore more exciting arrivals with the all-new graphic novel "The Grreat Race" and the free app Kabu Pop Party Quest! Get ready to have some fun – life's a wild ride with the Kabu crew by your side!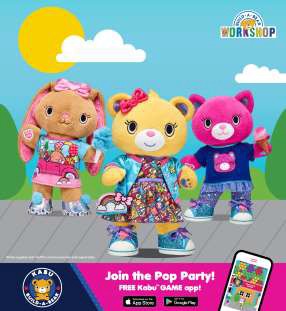 Kabu Event
20-22 July and 27-29 July
Paws in! Explore the world of Kabu with a FREE scavenger hunt and activity sheet in stores!
You're invited to join the in-store fun and explore the world of Kabu at Build-A-Bear Workshop! Make your own Kabu furry friend while participating in a FREE in-store scavenger hunt featuring members of the Kabu crew. Plus, Guests will get a FREE sticker sheet and activity sheet to take home. Keep the PAWsome adventures going with our new Kabu game app and graphic novel!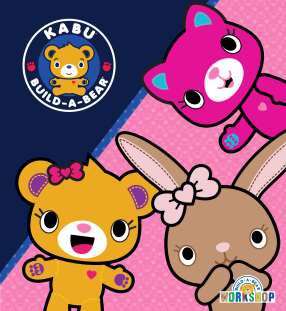 Camp Promise Pets Event
29 June-1 July, 6-8 July and 13-15 July Summer camp is in session at Build-A-Bear Workshop – and your pets are tagging along!
Calling all campers! You're invited to join the four- legged fun during Camp Promise Pets at Build-A- Bear Workshop! Discover cute new Promise Pets arrivals and play scavenger hunt bingo with your furry friend! Plus, all Guests get to take home a free activity sheet for s'more camping fun!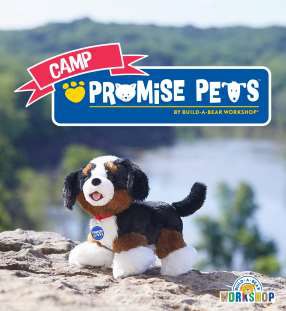 Meet the NEW Rainbow Friends Collection!
Arriving 28 June
Friends forever…stick together! If your favourite colour is rainbow, then you'll love the new Rainbow Friends collection at Build-A-Bear Workshop! Not only are Rainbow Friends Bear and Rainbow Friends Cat colourful as can be, but they can hold each other's paws and give each other hugs with their special paw pads. Plus, big hugs come in small packages with our new Build-A-Bear Buddies Rainbow Friends. Rock the rainbow with new furry friends as bright as you and your besties!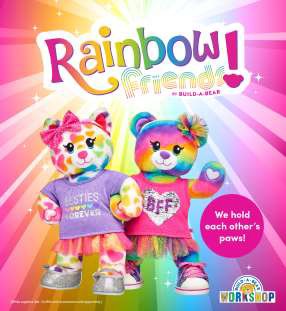 Hot WheelsTM and BarbieTM
Arriving 13 July
Make your own Barbie™ Bear and Hot Wheels™ Bear at Build-A-Bear Workshop!
Two beloved brands get the Build-A-Bear treatment this summer! Hot Wheels™ Bear zooms into the Workshop with its plush race car and paw pocket for holding Hot Wheels. Plus, Barbie™ Bear makes her Build-A-Bear debut with sparkly fur, fun fashions and a plush pink convertible. These new furry friends are must-haves for fans and collectors alike!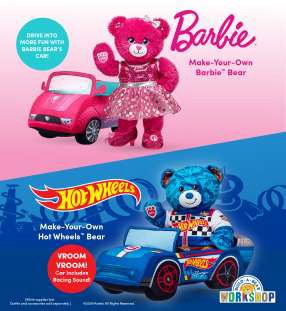 Count Your Candles
Pay your age! The age they're turning is how much their Birthday Treat Bear costs in their birthday month!
WE LOVE BIRTHDAYS! At Build-A-Bear Workshop, your child's birthday is as big a deal to us as it is to them – whether they're turning 5, hitting 8 or even celebrating the big 1-0! Bring them in to count their candles any day during their birthday month, and the age they're turning is how much you'll pay when they make a Birthday Treat Bear! This special offer is available to Bonus Club members only – if you're not a member, it's free and easy to sign up!