News — Fremlin Walk's Plastic Ocean Awareness Campaign
FREMLIN WALK'S PLASTIC OCEAN AWARENESS CAMPAIGN
This Half Term, we're raising awareness around single use plastics, recycling and helping to "Save our Seas!" in a plea to be more aware. We've partnered with Absolute Creative Print to set up a fun photo selfie spot on the mall, so why not hop in our boat and take a sneaky snap to help us spread the word? Don't forget to tag @fremlinwalk
Here are a few fun facts about how we're doing our bit!
Did you know… ?
Fremlin Walk recycles the weight of a Killer Whale in plastic every year!
Did you know…?
Our mixed use waste gets turned into fuel! Enough fuel to power 235 televisions. For a WHOLE YEAR!
Did you know…?
Fremlin Walk recycles the weight of 550 sea turtles in cardboard every year
Did you know?
Overall, we recycle the weight of 2 BLUE WHALES every year! That's A LOT of recycling.
Why not hop on our "Search the Sea" trail at the centre during Half Term and pick up some handy hints and tips as you go, on how you can help reuse, re-purpose and recycle.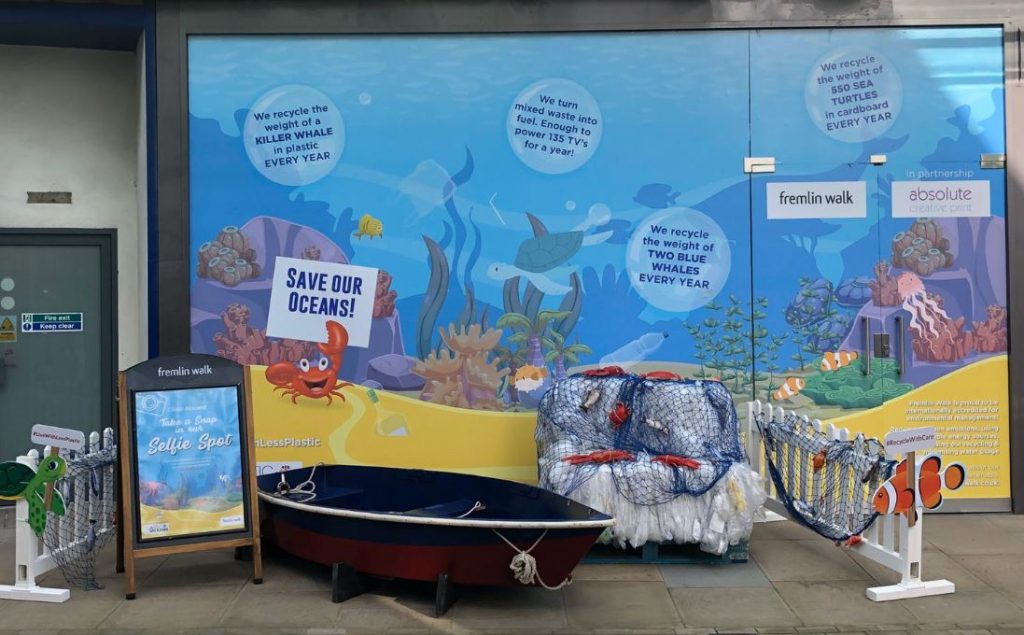 Fremlin Walk is proud to be accredited to the PAS99 standard, which includes BSI 14001 Environmental Management System (the internationally recognised standard for environmental management); ensuring that our environmental impacts are managed effectively, reducing carbon emissions, introducing renewable energy sources, increasing recycling and minimising water usage help to minimize our environmental footprint.