News — Egg-citing Easter Fun
Join us here at Fremlin Walk this April for lots of FREE egg-citing Easter fun!
Giant Easter Bunny
Our giant inflatable Easter Bunny will be here to greet you on your next trip to Fremlin Walk! Make sure you stop for a selfie with our utterly adorable Bunny from 9th until 18th April.
We'd love to see your photos so be sure to tag us @fremlinwalk on Facebook, Instagram & Twitter!
Easter Egg Trail – Chance to WIN £100!
We're hiding Easter clues in some of our shop windows from Saturday 9th – Monday 18th April, and we want YOU to find them for your chance to WIN £100 to spend at a store of your choice at Fremlin Walk*!
Pop into Paperchase to pick up a trail leaflet and pencil, and make your way around the centre, hopping into each store with an Easter poster to go and collect some yummy Easter treats!
Once you have completed the trail, submit your leaflet back into Paperchase for the chance to WIN!
*T&Cs apply.
Bee Workshop
On Saturday 9th April from 10am – 3pm we'll be handing out branded wildflower seed packets to raise awareness of the importance of bees and our bee houses on top of our roof.
PLUS children can come along and make their very own bee antennas at our bee craft workshop.
Buzz, our bee mascot, will be there for photos throughout the day.
FREE Dino Egg Trail with One Maidstone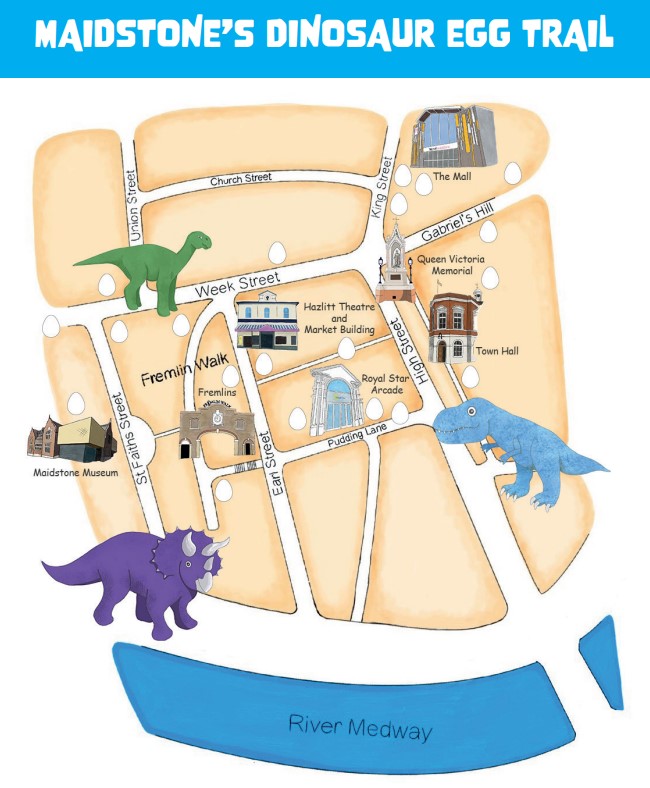 We've partnered with One Maidstone as part of their town wide Dino trail from 2nd – 16th April.
Pick up a trail map from Maidstone Museum and other participating businesses to find 20 large colourful Dino eggs, designed by fantastic local artists and schools.
Collect a letter on each egg to help spell out a small sentence. Once you've cracked the code, hand completed maps in at Maidstone Museum for a gift. PLUS be entered into a free prize draw to win 1 of 100 Spike Dinosaur toys!
Pssst, 2 of the eggs will be within Fremlin Walk, so get hunting!
Animatronic Spinosaurus
Meet Maidstone ONE's Animatronic Spinosaurus here at Fremlin Walk on Saturday 9th April (at intervals). It will make for some ROAR-some entertainment in between shopping!
Comedy Duo – Dust Busters
A comedy cleaning duo act will be roaming the centre on Easter Saturday, adding some fun and laughter to your trip.